Burgers are very delicious food. Most people like burgers. Nowadays, cooking burgers is very easy because you can buy frozen burgers from the market and cook them easily.
If you are very busy and you don't have any fresh meat, then the best option is cooking frozen hamburger patties. Cooking frozen burger patties depends on your preference. You can cook it in a griller or a frying pan.
Ingredients of burger 
Normally, if you want to cook a burger, you need some important ingredients like meat, buns, onions, lettuce, tomato, cheese, mayonnaise, pickles, and fresh avocado. For buns, you can choose basic supermarket buns or you can use premium quality burger buns. 
You can also use whole-grain buns. These buns you can also keep in the freezer. you should toast buns in the oven or pan for 1-2 minutes before surviving the burgers.
Here is the list of ingredients 
1lb pack of frozen Burger Patties
Oil
Salt & pepper
Cheese
mayonnaise
Pickle
Onions
Tomatoes 
Lettuce
avocado(if you like)
Hot sauce
Burger sauce
Cooking Frozen Burgers:
You can cook frozen burgers easily to follow some steps:
Prep time: 5 minutes
Cook time: 15-20 minutes
Step 1: To cook burger patties at first you have to heat your iron skillet for over 5 minutes on medium heat.
Step 2: Then, season your burger patties with salt and pepper. Add some olive oil to the pan. When the oil becomes hot, place the patties on the pan. you should be careful about leaving a little space between the patties. otherwise, they become stuck together.
Step 3: Cook for about 6 minutes on one side. Then using your spatula, flip the patties and cook this side for another 6 minutes.
Step 4: If you want you can season this pattie with salt and pepper. This is the time to add some cheese if you want to make cheeseburgers. Cook them another 6 minutes until your burger patties aren't done cooking.
Step 5: You should cook your burger patties at 160 degrees F.To check the temperature of the meat you can slip a thermometer in the middle of the pattie. If your pattie is so thin you can put your thermometer by the side of the pattie.
Step 6: Toast your buns for 1-2 minutes. When your burger has finished cooking you can serve it with buns and some delicious toppings. For the topping, you can use onions, lettuce, tomato, cheese, mayonnaise, pickles, and fresh avocado.
To make your burgers more delicious you can use mayonnaise.
Is it Better to Cook Burgers Thawed or Frozen?
Burgers thawed cook faster and more easily than frozen burgers. Also, you'd need to increase the cooker's temperature when cooking frozen food compared to when cooking a condensed thawed burger.
Consequently, it's better you cook a thawed burger on your stovetop than cook it in its frozen form. Normally, you can prepare burgers at 180 degrees Fahrenheit and get the food completely cooked. You'd find the food's flipping, stirring, and braising in the pan easier because you can see the entire part of each burger.
This would increase the doneness of the food in all spheres. Even the frozen burgers would have to be condensed before they could become cooked, but this would become strenuous. Indeed, it's expedient to thaw burgers before cooking them.
Should I Fry My Burgers in Oil or Butter?
Choose oil. Fry your burgers in oil and avoid butter. Obviously, this is because oil burns at higher temperatures than butter. Some preferably use butter because of the advanced taste it adds to ground beef. Using butter instead of oil makes the burger's outer part crunchy.
Besides, butter is recommended for cooking ground beef when the burger's fat is below 20%. It subtly adds saturated fats and makes it brown. However, cooking with butter isn't necessary if your burgers have enough fats. Health-wise, cooking with oil is better in various conditions.
How Long Do Burgers Take on a Frying Pan?
The cooking time depends on the number of burgers in the frying pan, the materials used to construct the pan, the oil type, and the quantity of oil in the fry pan; all determine the duration of cooking burgers in frying pans. 3-ply frying pans with aluminum prepare burgers faster than other multi-ply frying pans.
Cast-iron frying pans cook faster but getting the tool to get the initial heat saturation may take longer than aluminum ones. Notwithstanding, the cooking time should be between 6min to 10min, regardless of the determining factors.
Frequently Asked Question:
How to Defrost Burgers Patties?
One of the most important things about burgers is patties. Most patties are made from meat. patties are also made with chicken, vegetables.
The main challenge with frozen burger patties is defrosting. If your burgers are frozen your patties will also be frozen. Before cooking you have to defrost your burger patties.
Nowadays there are many kinds of microwave ovens available in the market with a defrost feature. You can defrost any frozen item with a microwave oven easily. 
How do you season a patty?
You can season your patty with salt and pepper. After defrosting you should season it well. when you season your patty season both sides of it. Don't season your patty over.
What do you Season burgers with?
Making a good burger seasoning is so important. You can season your burger with paprika, smoked paprika. ground black pepper, brown sugar, onion powder, kosher salt, cayenne pepper, and garlic pepper.
How do you make burgers taste better?
To make your burger taste better you can use some olive oil. Also, you can use some soya sauce. You can use some burger sauce and baby onions. The important thing to make a delicious burger is using the best quality patties and buns.
Final word
Cooking a frozen burger is so easy and you can also enjoy a delicious burger without going to any restaurant. It is safe in this covid situation. To cook a frozen burger in an iron cast or a frying pan you can follow this article. It will be very helpful for you.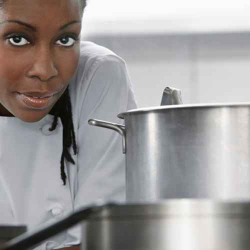 Latest posts by Mary M. Saucedo
(see all)