It's the heart of dinner time, and you're rushing around the kitchen, juggling multiple tasks like a culinary acrobat. Suddenly, you smell something strange, something distinctly not-food-like.
To your horror, you realize a plastic spatula, wrapper, or even worse, a plastic dish, has found its way onto your hot pan. Now you're stuck with a gooey, melted mess sticking tenaciously to the pan's surface, threatening to render it useless. 
Don't despair just yet! This unfortunate kitchen catastrophe happens more often than you'd think, and thankfully, there are reliable solutions.
In this post, we will walk through a step-by-step guide on removing melted plastic from your pan and restoring it to its original glory, ready for your next cooking adventure.
The Problem:
A hot pan and plastic are a notorious duo, and when they meet, trouble brews. The scenario typically unfolds in a bustling kitchen where a plastic object inadvertently ends on a hot pan surface.
It could be a spatula, a plastic bowl, or even a forgotten plastic wrap or bag. The heat from the pan quickly melts the plastic, causing it to adhere firmly to the pan's surface.
Plastics have varying melting points, but most household plastic items can start to melt around 200 degrees Fahrenheit, a temperature easily reached by stovetop cookware. This can create a stubborn, sticky mess that resists traditional cleaning methods.
The implications of this situation are twofold: not only do you have a potentially ruined pan, but you're also faced with a cleaning task that can be hazardous. Melted plastic can release harmful fumes, and improper cleaning methods can scratch or damage your pan.
Moreover, if not thoroughly removed, traces of plastic can contaminate future meals cooked in the same pan. Understanding the problem is the first step in safely and effectively rescuing your pan from its plastic plight.
General Tips Before Starting:
Before diving into the rescue mission, you must equip yourself with basic knowledge and precautions to ensure a safe and successful operation.
Prioritize Safety

: Melted plastic can release potentially harmful fumes, especially when heated. Protective gloves are also a good idea to avoid burns and skin contact with the plastic. Always ensure your workspace is well-ventilated before starting the process.


Practice Patience

: Removing melted plastic can be a time-consuming task, but rushing it can lead to permanent damage to your pan. Patience is key here – take your time to gently and carefully lift off the plastic.

Assess the Damage

: Before starting the cleaning process, evaluate the extent of the damage. If the plastic has burnt onto the pan or deeply infiltrated the surface, it might be more practical to replace the pan rather than attempting to clean it.

Choose the Right Tools

: Use wooden or silicone scrapers to avoid scratching the pan's surface. Metal utensils can cause damage, especially to non-stick pans.
Step-By-Step Guide to Removing Melted Plastic from Pans:
Now that you're prepared with the right approach and mindset, let's free your pan from the clutches of melted plastic.
Step 1: Allowing the Pan to Cool Down
First things first, let the pan cool down. You don't want to risk burning yourself or causing the plastic to embed further into the pan's surface.
Step 2: Removing as Much Plastic as Possible Manually
Once the pan has cooled down, use a wooden or silicone spatula to gently scrape off as much plastic as possible. Be careful not to scratch the pan's surface, especially if it's non-stick.
Step 3: Applying Heat to Soften the Remaining Plastic
Set your stove to a low setting and evenly heat the pan. If some plastic residue stubbornly clings to the pan, apply some heat. This should soften the plastic, making it easier to remove.
Step 4: Scraping off the Softened Plastic
Using your wooden or silicone spatula, gently scrape off the softened plastic. Remember, patience is key; you don't want to damage the surface of your pan in the process.
Step 5: Cleaning with Baking Soda and Vinegar Solution
After most of the plastic has been removed, clean the pan using a solution of equal parts baking soda and vinegar. This mixture is mildly abrasive and can help remove any remaining plastic particles.
Step 6: Final Rinse and Evaluation
Rinse the pan thoroughly with warm soapy water. At this point, evaluate the pan. You may need to repeat the heating and scraping process if any plastic remains.
Alternative Solutions:
While the step-by-step guide provided will work for many cases, there are some alternative methods you might consider depending on the type of plastic and the severity of the situation.
A. Freezer Method:
After the pan cools, place it in the freezer for a few hours. The cold will harden the plastic, making it easier to chip off. Use a wooden or silicone scraper to remove the hardened plastic. This method works well for less severe cases where only a small amount of plastic is melted onto the pan.
B. Commercial Products:
Various commercial products, including melted plastic, are available to remove stubborn substances from cookware. These products are generally effective but follow the instructions carefully. Also, some might be too harsh for pans with certain coatings, like non-stick surfaces.
C. Professional Help:
If the melted plastic is extensively spread or burnt onto the pan, consider professional help. Some kitchenware brands offer cleaning services, or you could turn to a local appliance repair shop. While this option could be more expensive, it's a safe bet when dealing with expensive or cherished cookware.
Conclusion:
In the heart of your culinary adventures, encountering a stubborn melted plastic mishap on your pan can throw you off track. However, as we've explored, you can rescue your pan from its sticky plight and restore its original shine with the right steps and precautions. Safety is paramount, patience is your ally, and knowing when to seek professional help can make all the difference. 
Now armed with this knowledge, you're ready to tackle such incidents head-on, ensuring your kitchen remains a place of creativity and enjoyment rather than stress. Keep cooking, keep exploring, and let this guide be your secret weapon against any melted plastic woes in the future.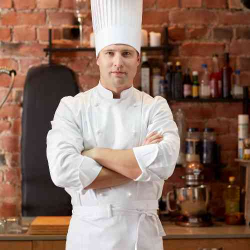 Latest posts by Frances E. Broussard
(see all)