If you're looking for a quick and tasty dinner option, fajitas cooked in a skillet are always a great choice. Not only are they easy to make, but they are also customizable and packed with flavor. In this article, I'll walk you through the steps to make delicious homemade fajitas in a skillet, using a traditional recipe that is sure to satisfy your cravings.
Whether you're a seasoned chef or a beginner cook, this skillet fajitas recipe is perfect for anyone who wants to enjoy a tasty and healthy meal with a hint of spice. So, let's get started!
Key Takeaways:
Skillet-cooked fajitas are a quick and easy dinner option
A traditional fajita recipe is customizable and packed with flavor
The following steps will guide you through the process of making delicious homemade fajitas in a skillet
Gather Your Ingredients
Before we start cooking, let's gather the ingredients we need to make our delicious homemade fajitas. This traditional fajita recipe requires the following ingredients:
| Ingredients | Amount |
| --- | --- |
| Flank steak or chicken breast | 1 pound |
| Bell peppers (any color) | 2 medium |
| Onion | 1 medium |
| Garlic | 2 cloves |
| Vegetable oil | 2 tablespoons |
| Lime | 1, juiced |
| Chili powder | 1 tablespoon |
| Cumin | 1 tablespoon |
| Salt | 1 teaspoon |
| Black pepper | 1/2 teaspoon |
The ingredients for this skillet fajitas recipe are easy to find at your local grocery store. You can use flank steak or chicken breast, depending on your preference. I personally prefer chicken breast, but you can't go wrong with juicy flank steak. Choose bell peppers of any color to add a pop of brightness to your fajitas.
Prepare the Meat and Marinade
Now it's time to prepare the star of the show: the meat. For this traditional fajita recipe, I recommend using skirt steak or flank steak. These cuts are flavorful and tender, and work perfectly for skillet-cooked fajitas.
Start by slicing the meat against the grain into thin strips. This will make the steak even more tender.
Next, it's time to prepare the marinade. In a bowl, combine lime juice, olive oil, garlic powder, chili powder, cumin, salt, and pepper. Whisk together until fully combined.
Add the sliced meat to the marinade and toss until each piece is fully coated. Cover the bowl with plastic wrap and refrigerate for at least 30 minutes, or up to 24 hours for deeper flavors.
Pro tip: If you're short on time, you can skip the marinade and simply season the meat with salt and pepper before cooking.
Prepare the Vegetables
Now that our meat is marinating, it's time to prepare the vegetables for our homemade fajitas. Traditional fajita recipes call for onions and bell peppers, but feel free to add any other vegetables you enjoy.
Start by slicing one or two onions into thin strips, depending on how much you want to include in your fajitas. Next, slice one or two bell peppers in half, remove the seeds and stem, and slice them into thin strips as well.
If you want to add extra veggies to your skillet fajitas recipe, consider slicing up some mushrooms, zucchini, or even sweet potatoes. Just make sure to slice them into thin, bite-sized pieces so they cook quickly and evenly.
Cook the Fajitas in a Skillet
Now that the meat and vegetables are prepared, it's time to cook the fajitas in a skillet. Here's how:
Heat a skillet over medium-high heat.
Add the marinated meat to the skillet and cook for 5-7 minutes or until the meat is cooked through.
Remove the meat from the skillet and set it aside on a plate.
Add the sliced peppers and onions to the skillet and cook for 3-4 minutes or until they are tender, but still slightly crisp.
Return the cooked meat to the skillet and stir to combine with the vegetables.
Cook for an additional 2-3 minutes to heat the meat and vegetables through.
And that's it! Your skillet-cooked fajitas are ready to serve. Just be sure to give them a good stir and mix all the flavors together before plating.
Tips for Success
For best results, use a cast iron skillet to cook your fajitas. This will help give the meat a nice sear and make the vegetables tender without overcooking them.
Also, be careful not to overcrowd the skillet when cooking the meat. This can cause the meat to steam instead of sear, which will result in a less flavorful fajita.
Variations
If you're short on time, you can skip marinating the meat and simply season it with your favorite fajita seasoning before cooking.
For a vegetarian option, you can substitute the meat with sliced portobello mushrooms or tofu.
And if you're feeling adventurous, try adding some pineapple chunks to the skillet for a sweet and tangy twist on traditional fajitas.
Serve and Enjoy
After cooking the skillet fajitas to perfection, it's time to serve and enjoy this delicious homemade meal. You can serve the fajitas directly from the skillet, making sure to include a good mix of the cooked meat and vegetables on each plate.
To make the fajitas even more delicious, you can offer toppings such as shredded cheese, sour cream, guacamole, and salsa. Serve them with warm tortillas or lettuce cups.
One of the best things about this traditional fajita recipe is that it's perfect for feeding a crowd. You can easily double or triple the ingredients to serve a big group of family or friends.
No matter how you choose to serve your skillet-cooked fajitas, be sure to enjoy the delicious flavors and savor every bite.
Tips and Variations
Get ready to elevate your homemade fajitas with these tips and variations on the best fajita skillet recipe!
Quick Fajita Recipe
If you're short on time, skip the marinade and use store-bought fajita seasoning instead. Cook the meat and vegetables in the skillet, then add the seasoning and stir until everything is evenly coated. This quick fajita recipe will be ready in no time!
Vegetarian Fajitas
For a vegetarian version of this skillet fajitas recipe, substitute the meat with sliced tofu or mushrooms. Use vegetable broth instead of chicken broth, and add extra vegetables like zucchini or yellow squash for added flavor and texture.
Sheet Pan Fajitas
Looking for an alternative to cooking fajitas in a skillet? Try making sheet pan fajitas! Spread the meat and vegetables out on a baking sheet, then roast in a preheated oven at 425°F for 20-25 minutes, or until the vegetables are tender and slightly charred.
Fajita Toppings
Top your homemade fajitas with your favorite toppings like sour cream, shredded cheese, guacamole, and salsa. Or, add some crunch with sliced radishes, shredded lettuce, or diced tomatoes. The possibilities are endless!
Cooking Tips
To ensure your fajitas turn out perfectly every time, make sure to use a hot skillet and don't overcrowd the pan. Cook the meat in batches if necessary, and let it rest for a few minutes before slicing. Also, don't forget to warm the tortillas before serving for added flavor and pliability.
With these tips and variations, your homemade fajitas will be the talk of the town! Enjoy the deliciousness of this traditional fajita recipe in no time.
Conclusion
I hope this skillet fajitas recipe has inspired you to make homemade fajitas for your next meal! With just a few simple ingredients and some quick prep work, you can enjoy delicious fajitas in the comfort of your own home.
In my opinion, this is the best fajita skillet recipe out there. The combination of tender, marinated meat and perfectly cooked vegetables creates a flavor explosion in your mouth. Plus, cooking everything in one skillet means easy cleanup afterwards.
If you're feeling adventurous, try experimenting with different types of meat or veggies. You can also add some spices or hot sauce to give your fajitas an extra kick. The possibilities are endless!
Thanks for following along with this traditional fajita recipe. I hope you enjoy your homemade fajitas as much as I do.
FAQ
Q: How long does it take to cook skillet fajitas?
A: The cooking time for skillet fajitas can vary depending on the thickness of the meat and the heat of your skillet. On average, it takes about 10-15 minutes to cook the meat and vegetables to perfection.
Q: Can I use a different type of meat for skillet fajitas?
A: Absolutely! While traditional fajitas are made with beef or chicken, you can use other meats like shrimp or even tofu for a vegetarian option. Just make sure to adjust the cooking time accordingly.
Q: Do I need to marinate the meat before cooking?
A: Marinating the meat is not necessary, but it can help enhance the flavor. If you have the time, marinate the meat for at least 30 minutes before cooking for a more delicious result.
Q: Can I use frozen vegetables for skillet fajitas?
A: While fresh vegetables are recommended for the best taste and texture, you can use frozen vegetables if that's what you have on hand. Just make sure to thaw them before cooking to avoid excess moisture in the skillet.
Q: Can I make skillet fajitas without a skillet?
A: If you don't have a skillet, you can still make delicious fajitas using a regular frying pan or even a grill. Just adjust the cooking time and temperature accordingly.
Q: How should I serve the skillet fajitas?
A: Skillet fajitas are typically served with warm tortillas, sour cream, guacamole, and salsa. You can also add toppings like shredded cheese, diced tomatoes, and chopped cilantro to enhance the flavor.
Q: Can I customize the seasoning for skillet fajitas?
A: Absolutely! Feel free to adjust the seasoning according to your taste preferences. You can add more or less spice, or even experiment with different herbs and spices to create your own unique flavor profile.
Q: Can I make skillet fajitas ahead of time?
A: While skillet fajitas are best enjoyed fresh, you can prepare the meat and vegetables ahead of time and store them in the refrigerator. When you're ready to serve, simply reheat them in a skillet until heated through.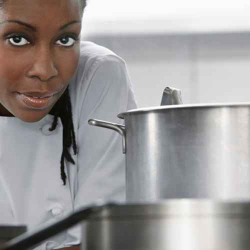 Latest posts by Mary M. Saucedo
(see all)